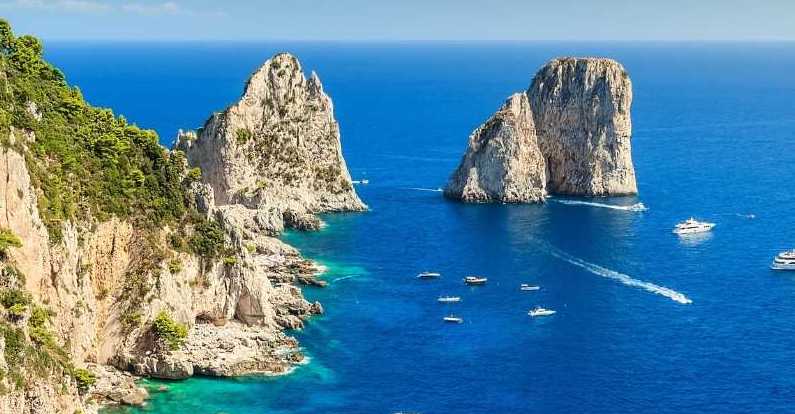 ---
Best places to visit
Best places to visit in Campania
Castellamare di Stabia
Castellammare di Stabia is located in the heart of the Bay of Naples  and from here you can visit the most famous attractions of Campania like: Pompeii, Herculaneum, Naples, Sorrento, the Amalfi Coast, Capri, Ischia.
Naples
Naples is  a place of soul-stirring art and panoramas, spontaneous conversations and unexpected, inimitable elegance. Naples' wealth of cultural assets is extraordinary.You'll find two royal palaces, three castles, and ancient ruins that include some of Christianity's oldest frescoes. The city's Museo Archeologico Nazionale claims the world's finest collection of Pompeiian frescoes and mosaics, while its Cappella Sansevero holds Italy's most extraordinary marble sculpture. You'll find Caravaggio masterpieces in the Pio Monte della Misericordia, Palazzo Zevallos Stigliano and Museo di Capodimonte, the latter palace home to countless masterpieces. 
Pompeii
In Pompeii you'll find Europe's most compelling archaeological site: the ruins of Pompeii. Sprawling and haunting, the site is a stark reminder of the destructive forces that lie deep inside Vesuvius.
Herculaneum
Ercolano is an uninspiring Neapolitan suburb that's home to one of Italy's best-preserved ancient sites: Herculaneum. A superbly conserved fishing town, the site is smaller and less daunting than Pompeii, allowing you to visit without the nagging feeling that you're bound to miss something.
Mt Vesuvius
Rising formidably beside the Bay of Naples, Mt Vesuvius forms part of the Campanian volcanic arch, a string of active, dormant and extinct volcanoes that include the Campi Flegrei's Solfatara and Monte Nuovo, and Ischia's Monte Epomeo. Infamous for its explosive Plinian eruptions and surrounding urban sprawl, it's also one of the world's most carefully monitored volcanoes. Another full-scale eruption would be catastrophic. More than half a million people live in the so-called 'red zone', the area most vulnerable to pyroclastic flows and crushing pyroclastic deposits in a major eruption. Yet, despite government incentives to relocate, few residents are willing to leave.
Ischia
The volcanic outcrop of Ischia is the most developed and largest of the islands in the Bay of Naples. An early colony of Magna Graecia, first settled in the 8th century BC, Ischia today is famed for its thermal spas, manicured gardens, striking Aragonese castle and unshowy, straightforward Italian airs – a feature also reflected in its food. Ischia is a refreshing antidote to glitzy Capri.
Capri
Capri is beautiful – seriously beautiful. There's barely a grubby building or untended garden to blemish the splendour. Steep cliffs rise majestically from an impossibly blue sea; elegant villas drip with wisteria and bougainvillea; even the trees seem to be carefully manicured.
Sorrento
Known as the land of the sirens,  the area to the west of Sorrento is among the least developed and most beautiful in the country. Tortuous roads wind their way through hills covered in olive trees and lemon groves, passing through sleepy villages and tiny fishing ports. There are magnificent views at every turn, the best from the high points overlooking Punta Campanella, the westernmost point of the Sorrento Peninsula. Offshore, Capri looks tantalisingly close.
The Amalfi Coast
Deemed an outstanding example of a Mediterranean landscape by Unesco, the Amalfi Coast is one of Italy's most memorable destinations. Here, mountains plunge into the sea in a nail-biting vertical scene of precipitous crags, cliff-clinging abodes and verdant woodland.
---